"Before my country is black because they don't have light. They wish in their heart that they can find the light – but they don't they just find red …"
As part of our Creative Communities initiative in 2017 verd de gris are working to support two young teenagers who fled their homeland in the Mazarin Sharif region of Afghanistan to find safety and sanctuary here in Calderdale in the UK. Their story is remarkable. Leaving their rural village to escape the Taliban (who had murdered one of the boy's fathers and had kidnapped the other's) the boys walked over 5,000 miles (at the age of 13) – sleeping in forests, scavenging for food to stay alive.
"If we had stayed we would be dead – we left because there was no choice – They would come for us to wear a suicide vest – if we did this we would die and kill others. If we refused they would kill us and our families – there was no choice."
These boys left everything behind – and they want people to know what this means to them – saying goodbye to their mothers, friends and families knowing that they may never see them again.
"I miss my Mum so much – with every breath I take. When I sleep in my room, alone, I remember her smile, her eyes – everyday I carry the sorrow. I miss so much my Mum."
Over the course of a year Sharon from verd de gris arts used art, storytelling, poetry and music to try to capture something of the life they fled … and their hopes for the future.
"We would take the sheep to pasture in the hills. Sometimes we would go with my father – we would rest a while under some trees and my dad would play the soft music of the wooden flute – dreamy and so soft and beautiful."
What life did they leave behind? What kinds of opportunities did life offer them? And what do they wish for now – for their futures here in the UK?
As part of our Dreams project we took the boys into two local schools, Hebden Royd and Beech Hill Primary Schools – to explore notions of aspiration, hope, opportunity – and to share their story with local children in a bid to shine a more piercing light on the plight of asylum seekers and why they must leave their childhoods behind.
"Do you think we would have walked 5000 miles if we had a choice?"
As well as working in local schools the boys have been on radio stations across West Yorkshire to talk about their experiences. They created a soundscape which was broadcast on Bradford Community Radio and on BBC Radio Leeds:

https://soundcloud.com/jeff-turner-4/5000-miles
Working with Calderdale College we also created a unique, hand-finished book of the boy's journey. It was designed to help other children and young people in our community understand something of the refugee experience.
The book was designed by verd de gris arts and features illustrations by Calderdale College Art & Design student Beth Hall. The book was launched at Square Chapel Arts Centre in November will distinguished guests including Mayor of Calderdale Cllr Ali, Chief Exec of Calderdale MBC Robin Tuddenham, and Deputy Lord Lieutenant of West Yorks Chris Harris to celebrate the remarkable story of these two amazing boys.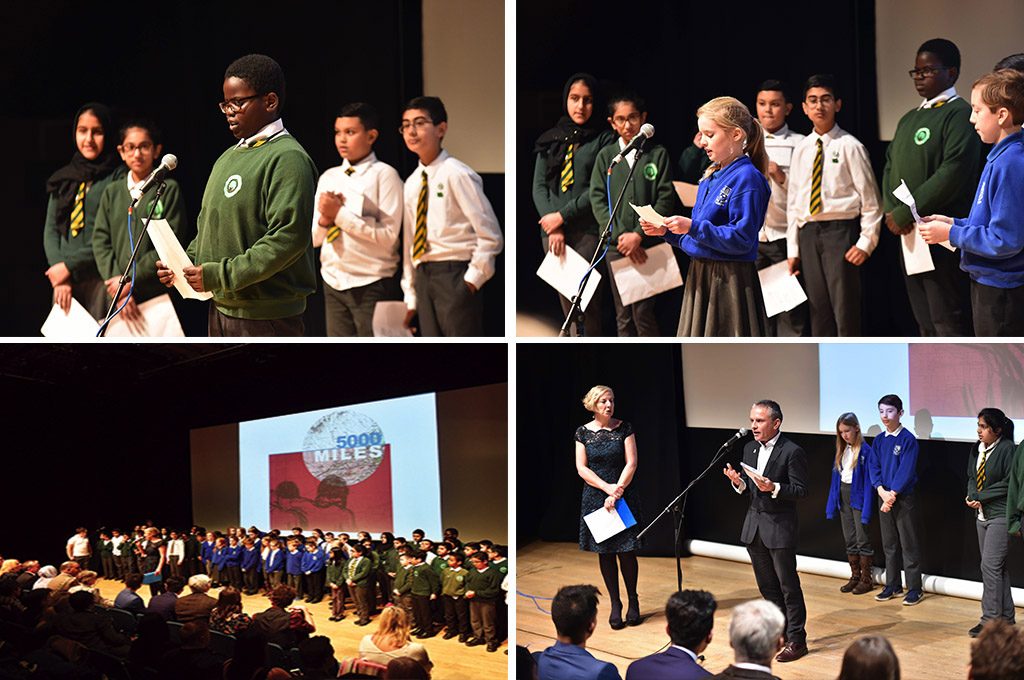 The Creative Communities (Stronger Together) programme is supported with funding from the National Lottery through the Big Lottery Fund.