ONE VOICE
At the heart of our 3-Year MANY VOICES project is the ONE VOICE group – a creative steering group made up of a diverse  group of local women.
This group meets monthly and we'll be inviting guest speakers / artists to help develop creative ideas and projects with the group … with the aim of showcasing their thoughts and concerns – helping to give them a 'platform' for engaging wider communities.
ONE VOICE will become a more and more confident and empowered group of women – encouraged to take ideas and project formats to more and more people within the wider community – constantly looking at and responding to issues as they arise from our other satellite projects.
This group will seek to deliver creative presentations and events using poetry, film making, photography, performance.
The 'ONE VOICE' group of women at Square Chapel Arts Centre met for the first time in September … bringing women from different backgrounds and different life-experiences together to share thoughts and ideas about empowerment and identity.
All these women are passionate about creativity and what we can do together to increase opportunities for local women … working together to give a 'voice' to the thoughts and concerns concerns women from some of our most marginalised groups and communities.
As part of this programme of work supporting women and girls in #Calderdale we are bringing together local service providers who deliver services for marginalised and vulnerable groups, to explore ways in which the creative arts can be employed to help us all work better together – and to meet and share best practice.
Our first creative session at Square Chapel Arts Centre brought together staff from WomenCentre Project 1325 Home-Start Calderdale and @beechhillsch … lots of ideas, conversation and excitement about working together!!
Day trip to Touchstones Gallery in Rochdale
We had an amazing afternoon at Touchstones Gallery in October. A group of the women from the group came with us to see the 'HER STORY exhibition – a powerful and provocative collection of artwork by some of the world's leading women artists.
It was an emotional afternoon, full of conversation, ideas and deep personal responses. One of women's words in the car on the journey home resonated strongly with us. Speaking about one of the pieces she said: "The men were speaking out, the women couldn't speak out! The only thing that will change this will be for us to speak out! To use our voices to make change happen!!!"
For them this is what the exhibition was about. These are women from widely different backgrounds, unused to, and unsure about the 'gallery experience' … some had never stepped into an art gallery in their lives. But through ONE VOICE they feel confident to speak about what these other women's voices mean to them: sometimes painful, sometimes angry, sometimes insightful, but always strong! Very strong!!!
It's good to know that Art still has the power to shock, to provoke and to stimulate.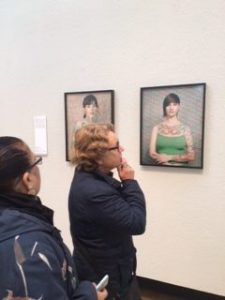 'A Super Happy Story' at Square Chapel
In November the women went to see 'A Super Happy Story (About Feeling Super Sad)' @SilentUproarPro – a fabulous show about not feeling fabulous all the time.
For some of these women this was the first time they had EVER been to the theatre. They could not believe just how POWERFUL theatre and drama could be … the aftershow discussion was impassioned and full of love for the amazing company who brought this great piece of work to Square Chapel Arts Centre
And the women were SO close to the performance, sat right on the front row!!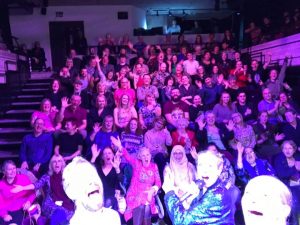 We are grateful to Big Lottery Fund and Community Foundation for Calderdale and our partner Square Chapel Arts Centre for making this project happen.