Dreams, Hopes & Aspiration!
The guiding theme for project work in the final year of our #CreativeCommunities initiative will be exploring 'Dreams, Hopes & Aspirations'. The verd de gris team of artists will develop a number of creative interventions which will take place with targeted groups (in schools and with marginalised individuals) across Calderdale.
Our aim will be to record through a variety of media how local people feel about their lives now – what struggles / joys they live with – and what hopes / dreams they have for the future.
In partnership with Square Chapel we will stage a number of open celebratory events throughout the year – these will weave together particular strands of the work giving different groups and communities opportunities to meet, share and learn from each other.
Over the course of this exciting year of activity it is our intention to pay particular attention to the thoughts, dreams and motivations of participating Women and Girls … to explore how confident they feel about themselves and the world around them, and what, if any, barriers exist to opportunity and ambition. E.g. what is school / work / family life like? What pressures are placed upon them as women and girls? What kinds of opportunities are open to them?
Featured projects will include exploring the notion of 'sound' and 'communication' with people who are deaf or severely hard of hearing.
Over the last few years verd de gris have been working closely with a number of people in the Pakistani community who have been deaf since birth.
Sabah was born in Pakistan but came to the UK as a girl around 7/8 years old. We know there are very few opportunities for her within her own community (relationships, marriage, employment etc.) but she is supported by an amazing family and has worked with us on a number of creative projects. Getting to know Sabah and her family and the cultural factors that constrain her, we feel there is a way to use creativity to help her find a way to 'express' herself … and for us to find ways to help us understand more about her 'internal connection' to music / dance / the voice.
An exciting part of this project will be the chance for us to work with local organisation Music & the Deaf and musician and performer Amy Rose Atkinson, who is herself is hard of hearing.
Watch this space!!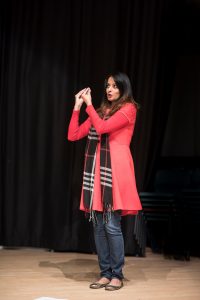 The Creative Communities (Stronger Together) programme is supported with funding from the National Lottery through the Big Lottery Fund.